How to Use Sugar Daddy Apps to Find A Sugar Daddy?
Latest update: Jan 23, 2020 13243 by Tony Samuel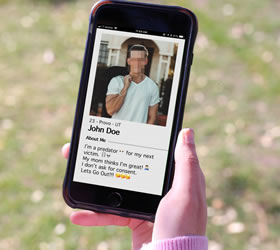 If you want to jump into the world of sugar daddy dating, the first and most important thing is to find a good place to get started. So...what about the sugar daddy apps? (*The most popular and effective technique to connect with the rich and generous gentlemen.) Maybe you quite agree with me, but you don't know how to do it.

Don't worry, today I will share this 10 simple steps guide to help you to find an ideal sugar arrangement by using sugar daddy apps.
1. Choose the best sugar daddy app to join.
It's necessary to take a few moments and reading our top 10 sugar daddy dating sites reviews. You will get the most important information of the top sugar daddy apps in the world, including their features, costs, pros, cons, ratings and more. Our reviews are your complete guide to start sugar dating adventure.

QUICK ENTRY: SugarDaddyMeet App 、Seeking App 、MillionaireMatch App
2. Fill all your information and upload your best photos.
Let's face it, the only reason sugar daddies are looking for a sugar babe is that they want to know what it feels like to lie next to a sexy lady with the tight body again. After filling in your basic information, select only the most awesome photos and upload to your profile. The photo should make them lust after you and want to spend their money on you. Give them a teaser of what to expect should they hook up with you!

Related Reading: How to Create an Impressive Sugar Daddy/Sugar Baby Profile
3. Make sure your profile description is interesting and engaging.
If the sugar daddy wanted someone stuck up and boring, they would go back home to their wives. You are supposed to spice up their lives. Your profile makes the first impression and can tell whether you will spice up the life of your sugar daddy. Therefore, make sure your profile is very interesting and engaging. It will also help you beat competition from other sugar babes. Let them know about your hobbies and bedroom skills. Include some fun hangout places that you know they will enjoy patronizing. Besides your awesome pictures, this is your opportunity to stand out.

Related Reading: Sugar Daddy/Baby Profile Description Examples
4. Verify your profile.
Once you have set up your profile, including basic information and photos, you will need to verify them. This is to prove that you are not a scammer using a fake account. Verifying your profile also makes it easy for the staff to show you newer members or better matches. By the way, it's free to verify your photos, income, location and other details on sugar daddy apps.
For wealthy sugar daddies, completing income verification can prove your financial status; For attractive sugar babies, completing photo verification makes it easier to gain trust and attention from POTs.
5. Express your expectations and set your boundaries.
There are many types of sugar daddies in the sugar dating world. Different people have different expectations when seeking a sugar relationship. Some people just want sex, they uses sugar dating apps as escort services. Some people just want someone who will listen to them, the sugar dates will be a way for them to escape issues at home. Whatever your expectations and boundaries are, you need to strictly predetermined and agreed upon during the initial stages of the arrangement. Remember, don't be shy to express "what you want" and "what you don't want".
Types of Sugar Arrangements: Mutually Beneficial、 No-Strings-Attached 、Friendship、 Online Arrangement 、Gay Sugar Dating 、Sugar Momma Dating、 Serious Relationships 、Mentorship 、Travel companion 、Platonic、 Short-Term etc.
6. Find out the "target" sugar daddies.
Once the app brings you matching results based on your expectations, it is up to you to narrow down search result with advanced search filters. For example, you can filter the searches by location so that the results are limited to your preferred locations. This way, you can ensure that the app only shows you the local sugar daddies. In the event of a meetup, it becomes easy to arrange a date if the sugar daddy is near you. You don't need to waste your time on sugar daddies who are far away.
7. Ignore those fake daddies.
Since you are brand new, you're probably getting a lot of messagess from the splenda/salt daddies in the first two weeks. Don't let yourself be scammed by the fake sugar daddies. You need to remove them from your "target sugar daddies list".
8. Start Interacting with the real sugar daddies who interest you.
After finding a real sugar daddy that you are interested in, engage with each other and find out more about the other. Share your interests, hobbies and find about your compatibility. You can also use the opportunity to discuss what you expect from each other so that you be on common grounds.
9. Whenever you're ready, arrange your first date.
Once you feel comfortable with each other, you can arrange your first and subsequent meetups through the sugar daddy app. You'd better meet your potential sugar daddy in a public place. Even if you are going to give him some sugar babe love on the first date, remember that safety is of paramount importance.

Related Reading: Tips on Having a Perfect First Date with a Sugar Daddy
10. Enjoy your dates.
If things go south, you can arrange for further dates and let your sugar relationships blossom into a long-term romance.


To Conclusion
With the help of the sugar daddy apps, finding a sugar daddy is not so difficult anymore. So, we had fun compiling this 10 steps guide to you!
Related Readings