Established Men Review
Establishedmen.com - Review by Editor - Overall Rating: 3.5 out of 5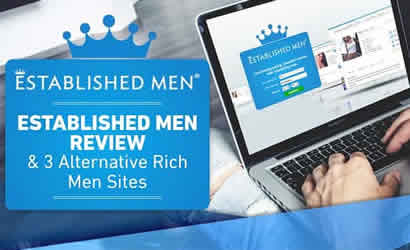 Created in 2008, EstablishedMen.com is dedicated to rich men and/or sugar daddies finding attractive women and/or sugar babies. Now it has become one of the world's most well-known sugar daddy dating site and has attracted an increasing number of user base. Most of the singles on the site enjoy the finer things in life and accept and admire mutual benefit in a relationship.


1. Costs
Free membership
Gold Membership

• $79 for one month
• $49 a month for three months
• $25 a month for 12 months
It's 100% free for women. You have full access to all the features. Before the journey to sugar world, all you have to do is submit and confirm an email address.
2. Features
Standard member:

• Basic search (age, location, and gender)
• Find a Date Tonight
• Sending flirts
• Voice mail (unique)

Premium member:

• Highlighting profiles
• 24/7 view of all new members
• Advanced search features like saved searches
• Messaging and instant chat
3. Verdict
All in all, compared to other sugar daddy dating site, EstablishedMen's price is higher, but the subscription of $25 a month for 12 months is affordable. It is easy for you to find young beautiful women because they are totally free to use all the features on the site and the male-to-female ratio is 1:3. As a unique feature on all the sugar daddy dating site, voice message makes it possible to get close to a real sugar baby by hearing their voice directly. It can happen through both mobile and computer. What a special part of EstablishedMen.com!
EstablishedMen is recommended as a high-quality website that sugar babes and sugar daddies will definitely sign up for. All you have to do is enter your email address, create an account and upload a profile photo of yourself. There are endless possibilities to meet young beautiful women here.