Sugar Daddy Meet Unbiased Reveiw of 2020
Sugardaddymeet.com - Review by Editor - Overall Rating: 4.9 out of 5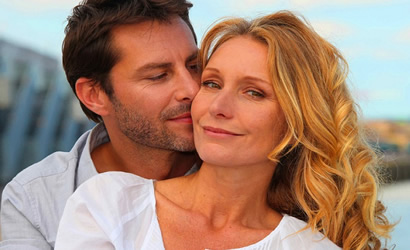 Sugar Daddy Meet from the Silicon Valley is one of the sugar daddy dating website where sugar babies who need sugar daddies who can cater to their financial needs and sugar daddies who need sugar babies for their sexual and emotional needs can meet. The website is well renowned for its ease in connecting sugar babies and sugar daddies.
To maintain the integrity of the website, registration from sugar babies and sugar daddies are limited only from the top 20 wealthiest countries in the world. It's a straight sugar daddy dating site(female sugar babies and straight sugar daddies only), so if you are looking for gay sugar daddy/boy, Sugar momma relationship, then sugarDaddyMeet is not for you, visit Seeking.com or Sugardaddyforme.com instead!
1. Sign Up Process
Signing up on Sugar Daddy Meet is easy and free of charge. You can use your email address to sign up or use your Facebook account to log in. Specific steps are as follows
1. Select a username. (better to use a different name other than your real name), gender, date of birth, and location.
2. Provide information. such as "about me", "about your match" etc, to understand your preferences. This will help the website to show you the best match of your interest
3. Upload a Profile Picture
That's all. As long as you're real and authentic with your information, your profile will be approved by the staffs!!! Here are some rules you are expected to follow so that you are not screened out by the strict review process of Sugar Daddy Meet.
• Ensure to use your real location. Your IP Address will reveal if you are using a fake location.
• Your profile description or headline should not contain your contact information or captions such as "request for money".
• Do not use child, nude, and fake photos as your profile picture as you will immediately be screened out.
Tip: To prevent any privacy invasion, we will advise you not to use your Facebook account or your personal email account to sign up. It is best to open a new email address solely for this purpose.
2. The Major Features Lists
| | | |
| --- | --- | --- |
| Message & Chat | Gold Member(5) | Standard Member(2) |
| Response a message | | |
| Send/replay a free wink | | |
| Send a message | | |
| Know sent mail whether read or not | | |
| Send limited winks | | |
| Search & Filters | Gold Member(7) | Standard Member(1) |
| Username Search / Quick Search | | |
| Search by Keywords, Photo, Advanced and Saved | | |
| Search by Annual income, height, relationship status | | |
| Search by looking for, ethnicity, body type | | |
| Search by religion, education | | |
| Search by smoking, drinking, children | | |
| Filters on: Premium member/certified sugar daddy/location | | |
| Profile & Photo | Gold Member(6) | Standard Member(2) |
| Get your photo verified | | |
| Free Profile Creation | | |
| Private Album Creation | | |
| Unsharing of a private album | | |
| Manage Profile/ Scan Photos/ Setting Photo Privacy | | |
| Add no more than 26 photos | | |
| More Features | Gold Member(13) | Standard Member(6) |
| View profile of other users | | |
| Propose a first date gift | | |
| Add idea for the first date | | |
| Add to Favourites | | |
| Browse community and blogs | | |
| See "who viewed my profile" and "who is interested" | | |
| Verify income | | |
| Highly rank your profile in searches | | |
| Button for Quick Exiting | | |
| Account Manager | | |
| Check the frequency of a user's replies | | |
| View the last time a member was active | | |
| Get live help from customer service | | |
1.Verify your Income/Photo: Your picture can be verified for free. It is important to verify your picture if you are real.

Tip: For sugar daddies, income verification will improve your chances with a prospective sugar baby.

2.Send/Reply to a message: Considering the highly competitive nature of sugar daddy and sugar baby dating, it is important to always take the initiative of sending a message to another member you are interested in.
3.Carry out advanced searches: Based on statistics, 82% of successfully matched sugar daddies and sugar babies occur when both members reside in the same city or in the nearby locations. It is possible to use advanced searches to screen result based on location. This way, you would only be communicating with those living close to you, when you agree to go on dates, it will also be easier meeting with each other due to the nearness of distance. Some other filters through advanced searches include filtering out unverified or non-paid users, thereby reducing the likelihood of linking up with a scammer.
4.High ranking your profile in searches: This feature is only available to premium members. Considering that most people check only the first few result pages when they search, ranking high will make you appear in these few pages and get more attention.
5.Account Manager: As a gold member, you can enjoy the services of an account manager dedicated to you as they will guide you on using the features available to you so that you can get the maximum benefit from your membership.
3. Membership Costs:
| | | |
| --- | --- | --- |
| | PC Website and Mobile Site | iPhone and Android apps |
| 1 month | $50 | $64.99 |
| 3 months | $90 | $109.99 |
| 6 months | $144 | $189.99 |
Your membership fees can be paid using different payment options like ➀.Credit/Debit Card, ➁.Paypal, ➂.Bank check/money order by postal mail. To save money, you're advised to pay the fees from your PC, then enjoy the features from the mobile apps.
If you do not cancel auto-renewal, your subscription will be automatically renewed once it expires. To cancel auto-renewal, you should send a mail to "[email protected]". The only instance where you can cancel your renewal on your own is, if you paid for the premium membership through the iPhone app.
The membership fee are the same for both sugar daddies and sugar babies. For comparison, the membership fees for sugar daddies are cheaper than some other websites such as seeking.com, while for sugar babies, their membership fees are higher than seeking.com and other similar sugar daddy websites.
4. Pros & Cons
Free sign up and profile creation

Sugar Daddy Meet have mobile app for both iPhone and Android users

Strict process for approval of membership through manual verification leading to high quality users

Well balanced sugar babies – sugar daddies ratio

Availability of several free features

Has the largest number of users from some wealthy countries

Lesser competition, thus, increasing your chances of getting a date

You get services worth for your money

Only accept members from the top 20 richest countries

Just Sugar Daddy and Sugar baby link up. No gays sugar boy, gays sugar daddy and sugar mummy connections

Some countries have just few users that are active

Some profiles are not complete

Need to upgrade to premium membership to enjoy some important features
5. Comparison
Sugardaddymeet.com being a brilliant way of aiding the meeting between sugar daddies and sugar babies, It is no surprise that there are other sites doing the same thing. These include Seeking.com, What's Your Price, Millionaire Match etc.
For the sake of the quality of services offered, the site rejects almost 20,000 new profiles every month. This strict and seemingly thorough process keeps scammers away and ensures only genuine people join the site. You can be sure that dating on sugardaddymeet.com provides the safest environment for you and gives you value for money.
Comparison
Sugar Daddy Meet
Seeking.com
Region
Top 20 richest countries
International
Profile management
Search & browse
Blog forum
Age range
18+
18+
SD/SB %
45 / 55
22 / 78
User ratings
4.75
4.45
pricing
1/3/6 momths
($50/$90/$144)
SD&SB same price
1 month
(SD:$89.95
SB:$19.95)
3 momths
(SD:$239.85
SB:$44.85)
Relationship type
straight sugar relationship
All types of sugar relationships
Monthly Visitors
5.6 million/monthly
11 million/monthly
competition
less
fierce
• Members' Age distribution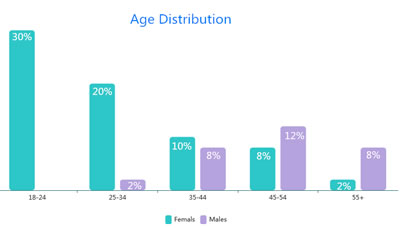 • Pricing: Sugar Daddy Meet is affordable when compared to most of its competitors. Furthermore, their flexibility is limited. They charge the same amount for sugar daddies and sugar babies. Compared to other competitor websites, sugar babies pay a higher fee. However, they have more competition on other websites that could significantly reduce their chances of getting a sugar daddy.
• Members: There are over 2.5 million straight sugar daddies and sugar babies on Sugar Daddy Meet from the top 20 richest countries in the world. The countries include USA, Australia, and Canada. Thus, even though they don't have the highest number of members, especially due to their restrictions, they have a much higher percentage of serious and active members. There is also a well-balanced sugar daddy to sugar baby ratio at 45% to 55%. Virtually every sugar baby has one sugar daddy for them. Sugar Daddy Meet considers this a very amazing achievement.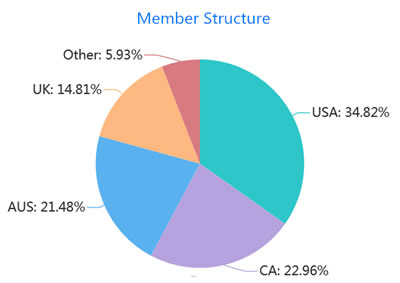 • Features: Sugar Daddy Meet has all the features that their members require as well as an easy to use platform that ensures smooth operation. Even though there are many features for free members, sending messages to other members first and performing advanced searches that make it easier to find other members requires upgrading to premium membership for a fee.
• Customer Service: Sugar Daddy Meet has a 24/7 customer support to attend to you. As a premium member, you also have a dedicated account manager. Thus, any of your complaints or comments will be solved within 24 hours.
• Privacy Protection: For more than 20 years Sugar Daddy Meet has been in existence, they have never breached the privacy of any of their members. Thus, your privacy and security is a major priority of Sugar Daddy Meet and are well protected.
• Worth: When you become a premium member of Sugar Daddy Meet, you can be sure that you will get value for your money. Your chances of getting a date to improve by 500% when you upgrade your membership.
6. Final Verdict
Sugar Daddy Meet is a website focused on linking sugar daddies with sugar babies through user experience and efficiency. You will always get value for every dime you spend on the platform. The focus of the website is to make it easy for sugar daddies to find sugar babies of their specification. Their control of the ratio between sugar daddies and sugar babies implies that every sugar daddy on the platform can find a sugar baby and vice versa. You can benefit a lot when you use the platform correctly.
Related Readings
Users' Reviews
---
I have had several great experiences on the site
As a sugar daddy, I must commend the website as it has a lot of sugar babies. Thus, you don't have to struggle to get a sugar baby. The girls on the platform are generally your next door type of girls and are generally good looking. There are a lot of choices. I prefer quality to quantity and thus, I have had a very satisfying experience on the platform.
In summary, I would like to recommend Sugar Daddy Meet to people.
Reviewer: Gissepi from London, UK


---
I just wish I'd found this site sooner!
I have tried hooking up with girls from many sugar daddy dating sites. In the end, I wasted my money and time. Some of the websites are more concerned about payments than providing service, even when it is difficult getting a date on the platform. One advantage of Sugar Daddy Meet is that there are free features you can try for free before deciding to pay.
In summary, I would like to recommend Sugar Daddy Meet to people.
Reviewer: alilier111 from Memphis, TN, United States


---
The admin suspended my account with no reason
I am having issues with my account as it has been suspected. After I signed up, I couldn't complete my profile set up. To the best of my knowledge, I am yet to violate any terms of the website. I like the easy to use nature and reviews of the platform. I still hope to benefit from using the platform. Can you help me?
In summary, I would like to recommend Millionaire Match to people.
Reviewer: yeth11124 from Downey, CA, United States


---
Recommend everyone to use it
It is best not to use this website if you don't want to pay for their services because many of their major features are only available for paid members. However, you shall enjoy many benefits if you pay their membership fee.
In summary, I would like to recommend Sugar Daddy Meet to people.
Reviewer: Macboy334 from Fort Worth, TX, United States