How to Create an Impressive Profile on a Sugar Daddy Dating Site
There is always one question that usually features on nearly all sugar forums, blogs, and social media sites. Many people usually want to know how to make their profile appealing on sugar daddy dating sites to attract more sugar partners. Many sugar babies and sugar daddies always ask for advice on this problem quite often. I am not going to repeat advice I (and others) have given many times. This article will provide you with valuable tips on how to create a perfect profile guaranteed to win you more potential sugar partners.
First and Foremost, many sugar daddies are usually extra busy. They rarely get enough time to peruse through the hundreds to thousands of profiles available. If you put this into consideration when your profile is lengthy, the chances of potential sugar daddies not reading your profile are very high, and they will end up skipping to the next profile. It is advisable to write a short and straight to the point profile, preferably 200 to 300 words. Ensure your profile begins with an eye-catching and creative introduction. Be mysterious and don't include all your information, if a sugar daddy likes you, he will ask you for more details. Trust me! I have tested it many times.
Secondly, it is always important to ask yourself some questions while writing your profile. These questions include: Why should a sugar daddy contact me? What do I offer that would make his life more enjoyable? How am I different from the other sugar babies? Ensure you focus on your strongholds to make your profile stand out from the rest and catch the attention of more potential sugar daddies.
Thirdly, sugar relationships are special and also unique. The only way to make them successful is to ensure that both you and your sugar partner are happy. Ensure you don't make the relationship too formal and straight-forward, your sugar daddy might get bored quickly. Your interests, hobbies, and political beliefs can also be crucial for attracting potential sugar daddies.
Fourth, you can always edit, and upgrade your profile over time. It doesn't have to remain stagnant and unchanged. Make sure you feel as comfortable and confident about your profile as you would about an outfit you'd wear on a dinner date.
Last but not least, different people are always looking for different things, sometimes it may not be entirely your fault. Even if your profile is fantastic, some sugar daddies may not be interested, so continue being yourself and never exaggerate.
Even if you have an excellent profile, when sugar daddies don't notice you, then your profile becomes meaningless. If you want to attract the attention of a sugar daddy the best way is to be the first one to break the ice and send the first message. The right message might be enough to trigger a sugar daddy to visit your profile and express his interest.
Here are some examples of good, unique, and attention-grabbing profile.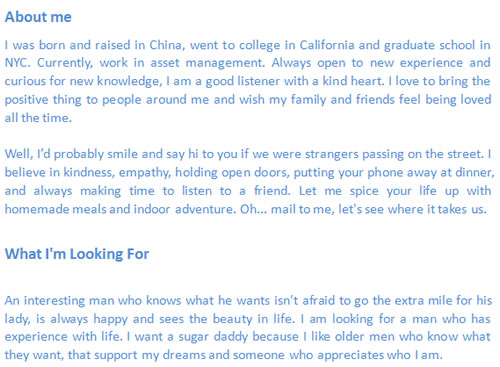 ---
---