How to Create A Good Sugar Daddy/Sugar Baby Profile
Latest update: Jan 30, 2020 52356 by Tony Samuel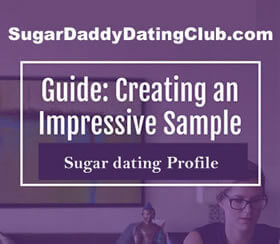 The POTs knows you through your dating profile, this is the first and very important step in building a sugar relationship. Unfortunately, so many newbies join the sugar daddy sites but don't put any effort into making an impressive dating profile that stands out and gives a clear impression of who they really are. How to create an impressive sugar daddy/sugar baby profile? This is always one question that usually features on nearly all sugar forums, blogs, and social media sites, and many sugar babies and daddies also ask me for advice on this question quite often.
Here we share this complete guide (with some real examples) to help you to make a perfect sugar daddy/ sugar baby profile step by step: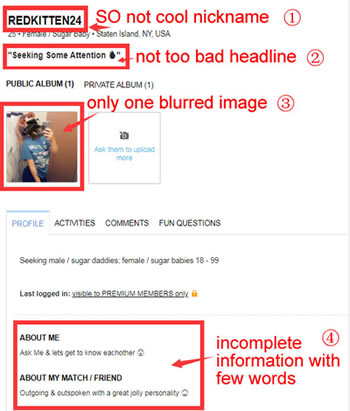 Check this sugar baby profile example, it may be confirmed that no one is interested in such a profile
1.Choose a cool sugar daddy/baby nickname
Some dating sites and apps only allow users to use their first name as a username. However, since sugar daddies and babies are both private people, the sugar daddy site allows you to create a nickname that defines your personality. To find the perfect, cutest, coolest and the unique sugar baby/ sugar daddy nicknames, you can visit https://www.findnicknames.com, or refer to our nickname examples:
Sugar Daddy Nickname Examples
Angel Eyes, Angel Face, Beanie, Biggy, Blondie, Blue Eyes, Boob Job, Bre Bre, Bright Eyes, Brown Sugar, Brownie, Chubby Cheeks, Curls, Doll Face, Donut, Eye Candy, Fine Wine, Flat Chest, Freckles, Goldie, Lady Bug, Little Donut, Little Muppet, Pineapple Chunk, Pinky, Slay Queen, Summer, Sunny Hunny, Violet, Winky Dink, Wookie.
Sugar Baby Nickname Examples
Amore Mio, Amorcito, Angel Heart, Ace, Anteros, Baby Cakes, Babu, Bright Eyes, Bellissimo, Bad Boy, Better Half, Boo Bear, Bello, Bedroom Eyes, Bootylicious, Brown Eyes, Readers Favorites, Braveheart, Casanova, Carebear, Cowboy, Cuddle Cakes, Chaviv, Champ, Cuddle Bear, Candy-Man, Captain, Cupcake, Caro Mio, Darlin, Doll Face, Dream Boat, Dear Heart, Dewdrop, Dreamlover, Daredevil, Dashing, Don Juan, Fire Cracker, Fuzzybear, Fabio, Foxy, Firefly, Gorgeous, Good Looking, Gladiator, Gum Drop, Hunk, Heart Throb, Heart Breaker, Honey Btallion, Jelly Bear, Joyful Knight, King, Kissy Face, Lamb, Lamb Chops, Love Machine, Lover Pie, Lady Killer, Love Train, Mr. Right , Mr. Perfect, Mister Cutie, Magic Man, McDreamy, Mr. Night Rider, My All, Moonbeam, Main Squeeze, Mr. Adorable, McSteamy, Man Candy, Mr. Cool, Mr. Amazing, Main Man, Near and Dear, Nookie Bear, One and Only, Other Half, Panda Bear, Pookie, Playboy, Pookie Bear, Romeo, Roo Roo, Rubber Ducky, Rolling Thunder, Rock Star, Sweetie Pie, Sugar, Sugar Pie, Sailor, Sexy Eyes, Sexy Pants, Stud Muffin, Stardust, Sugar Lips, Sparky, Sunny Boy, Sweet Cheeks, Sugar Plum, Sugar Puff, Sexy Devil, Sexy Face, Sugar Britches, Sugar Smacks, Valentine, White Knight, Wolverine, Zeus, Zorro,
2. A catchy headline is a copywriting job
Writing a good headline requires copywriting and creativity skills to couch something that aptly describes who you are in a few words and makes sense to your visitors. Remember not to ask someone for money in the headline, which makes you seem very vulgar. Wit/humor is always good, or you can just use something along the line of three keywords describing yourself or your personality. Here are some good examples:
Sugar Baby/Sugar Daddy Headline Examples丨Bio Examples
Are you the one?
Come and make my dreams come true?
Searching for my perfect partner.
Come and sweep me off my feet.
Waiting for Prince Charming.
In need of a sincere and generous man/attractive woman.
You only live once, enjoy my sugaring/spoil
Are we meant to be?
looking for lvoe, not necessarily a sugar one.
Search for the next adventure
Seeking the one can make me smile?
Want to experience a sugar relationship with an beautiful woman/generous gentleman
Looking for someone to explore the sugar dating world
Let's hang out.
Let's start with a fantasy dinner
Trying to find Mr./Mrs. Right.
Ready to jump into your sugar bowl.
Looking for the leading lady/gentleman in the movie of my life.
On a quest for romantic sugar dating
Waiting for someone take my breath away
Be careful not to fall madly in love with me
And Now...For Something Completely Differnet!
The Whole Enchilada
A Gentleman and a Scholar
Not Perfect, But My Dog Thinks I'm Awesome
Travels Well
Traveling Boots and Dancing Shoes
Runs with Scissors
In My Mind, I sing Just Like Sinatra
Start By Dreaming
If Edison Had Been Afraid of the Consequences, We'd Still be Sitting In the Dark
Like Dancing in the Rain
Eats Desert First!
Ollie, Ollie, In Come Free!
He Who Hesitates is a Damn Fool(Mae West)
Life Is About Stepping out of Your Comfort Zone
Passion and Ambition Seek the Same
Creating a New Ending
Lowa farm Girl Masquerading as East Coast Intellectual
3. Upload great profile pictures
• You need some pictures that show your body type and gives the actual feel of your look, making it clear that they're not hiding anything.


• Don't go for extreme close-up shots as they attract very little attention from potential matches. Porn photos as well as fake photos are incredibly annoying and should never be uploaded. People prefer to see your real and comprehensive photo before meeting you.


• Try to take a picture of you doing something that interests you. Don't go posting pictures from years ago, regardless of how flattering it may be. Choose a recent picture that shows what you look like now.


• Don't be afraid to show some emotion! Just smile! A smile makes you seem confident, but approachable at the same time.
Good sugar daddy and sugar baby profile picture examples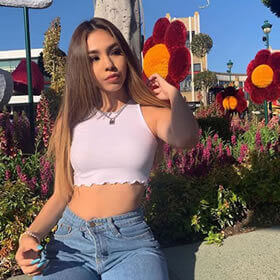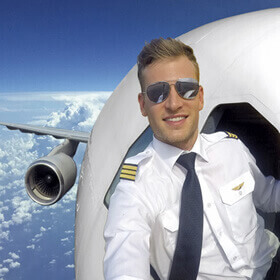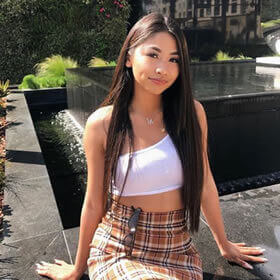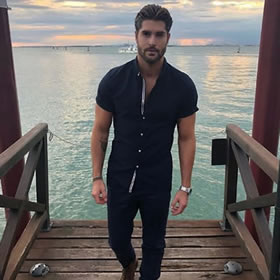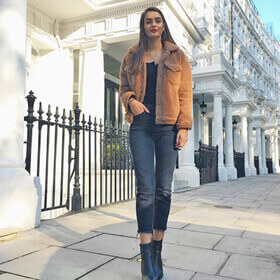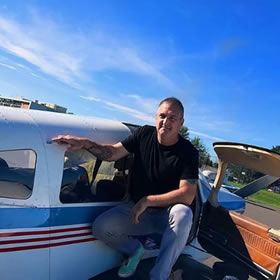 4. Write a short and straight to the point profile description
Both sugar daddies and sugar baby are usually extra busy. They rarely get enough time to peruse through the hundreds to thousands of profiles available. If your profile is too lengthy, the potential sugar partners tend to lose patience when reading your profile. It is advisable to write a short and straight to the point profile, preferably 200 to 400 words. Ensure your profile begins with an eye-catching and creative introduction. The content includes your major expectations and boundaries.
Focus on your strongholds. It is always important to ask yourself some questions while writing your profile."Why should a sugar daddy/baby contact me? What do I offer that would make his/her life more enjoyable? How am I different from the others? what are my best qualities?" Ensure you focus on your strongholds to make your profile stand out from the rest and catch more attention.
As if you were talking to a friend. Sugar relationships are special and also unique, the way to make them successful is to ensure that both you and your sugar partner are happy. Don't make the profile description too business-like and straight-forward, try to make friends with them. Your interests, hobbies, and political beliefs can also be crucial for attracting potential sugar partners.
Here are some good examples, unique, and attention-grabbing.
Sugar Baby Profile Description Example 1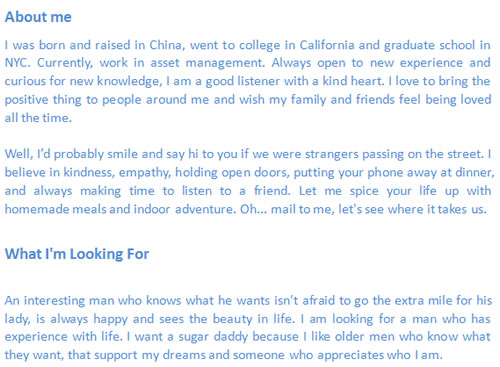 ---
Sugar Baby Profile Description Example 2
About me
I'm 21 years old from Connecticut who enjoys traveling, dancing, and going to museums/art galleries. Although I would prefer to be out and about, I never say no to a Netflix and pajamas day! I just graduated with a BA in Sociology, to better understand patterns of people and am planning to go to graduate school. My hobbies west coast swing dancing, softball, kayaking, and napping!
What I am looking for
I'm looking for a generous and kind person, who enjoys both staying in and going out. I would love someone who can make great conversation and is interested in my everyday life. I would love to be pampered by someone and pamper them in return.
Sugar Daddy Profile Description Example 1
About Me
I am the perfect catch. 39 no kids extreamly good looking have all my teeth and pearly whit smile lol. Iam the one you momm warned you about. the perfect gentelman threw and threw with the touch of a bad boy that will drive you cray...You will laugh so hard with me when you wake up the next morning you will have to pinch yourself to make sure you are not dreaming...I travel somewhere almost every day during the week checking on my business. I have tons of stress.
I am a very privite person. I will email your pics once I have decided you are someone I want to play with...I will never lie or mislead you.
What I am looking for
I am looking for a beautiful sugar baby in the Austin or Houston or Dallas area that wants nothing to do with a relathion ship just wants fun a few nights a month to help keep me focused and releave all my strees. She will get whatever she wants just ask and you will see I am real.
she must love sex(bi sexual is a plus not a must)
• white or hispanic only please.
• age 21 to 35
• Have passprot and loves to travel to tropical place..
• live in texas for quick convenience.
• NSA typ relation ship to start out with..
• loves to be spoiled and pampered...
Good luck ladies, I am your gold ticket lets see whats out there and see which lucky lady wins
---
Sugar Daddy Profile Description Example 2
About me
Artistic. Athletic. Ambitious. Fun. Confident.Modest. I like to see what's out there, learn and meet new people. Easy-going. Intelligent. Love thought-provoking conversations with people who are comfortable with who they are.
I'm in marketing and brand development. I love what I do. And I work for myself. If I'm not traveling for pleasure I travel for work doing market research: which is fun because I go to new places, learning new industries.
What I am looking for
I want to find a fun, fit and exciting "regular" woman who is busy but needs to have adult time. I am not looking to be the sole support for a woman who just sits around. However, I will do anything for the right women. The ideal woman would be,
1.within an hour of Hartford(or willing to drive here)
2.Bright and engaging
3.30-50 years old, established and just seeking adult fun
4.20-30 years old, who wants a mentor, not just a thick wallet.
5.Minimal tats
6.An appearance that looks like we belong together
7.Very sexual
*** A note to the girls and women looking for a secure future - Read or get the synopsis of "The Millionaire Next Door". It will explain(and prove) how people become wealthy and secure. It will keep you from wasting your time dating lawyers, doctors or flashy salesmen who drive German cars. It shows that most of these guys are high INCOME, low WEALTH, meaning they piss their money away. They may be short term fun, but won't have a pot to piss in when they are in their 50s. Seek WEALTH, not income!***
To learn more tips about how to make an impressive sugar dating profile, please read: How to Succeed at Finding a date on a Sugar Dating Site?
5. Take Some Time to Improve Your Profile
You can always edit, and upgrade your profile over time. It doesn't have to remain stagnant and unchanged. Make sure you feel as comfortable and confident about your profile as you would about an outfit you'd wear on a dinner date. In your search for sugar relationships, an impressive sugar baby/daddy dating profile will greatly help you.
Related Readings