Type of Sugar Daddy Arrangement - 20+ Real Expamples
Latest update: Jan 30, 2020 32123 by Tony Samuel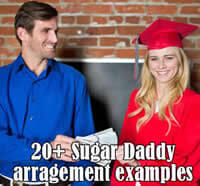 Typical sugar babies are college students or young women in the early stage of their careers, some of whom never have a sugar daddy before and know nothing about the sugar bowl. Why someone would want to pay for another person, how can a woman trust someone for money? Are there any examples that can be followed with?

Today, we share 20+ real sugar daddy arrangement examples to help you to understand how does the sugar relationship work?

1. Common Arrangement Examples
Ok, let's start with the following two arrangements, maybe you have ever heard of something like that before.
Example1.

Jenny (Atlanta) is a college student who needs a lot of money to repay her college loan because her parents can't afford it, thus she finds a generous sugar daddy to take care of her. In their arrangement, she sets the following terms:
• Her service includes dinner, show, attending events, intimacy and traveling together.
• The monthly allowance is $3,000 in cash, and all expense.
• She meets her sugar daddy at least four times one month.
• How long the relationship lasts depends on the chemistry between the two parties.
• It's an exclusive sugar relationship, therefore she can only date this man during the period of the arrangement.
• Occasional overnights.
Example2.

Lucy (Portland) is an Asian sugar baby. Since she is a newbie who isn't ready to join the sugar bowl, she finds an online sugar daddy and starts her sugar baby career with online sugaring. The terms of her arrangement are as follows:
• It is an online sugar arrangement without face-to-face meetups.
• Her service includes chatting with him online, sending her photos and videos, talking about something in common and having a video call.
• 3 hour each time, 4 to 6 times per month
• The sugar daddy pay her $1500 allowance monthly with Paypal.
• The relationship is non-exclusive, so that she can accept the offer from other sugar daddies.
---
2. Types of Sugar Daddies
As you see, the above two examples are the most typical sugar arrangements, you may wonder how do they reach such agreements? If it is you, what factors should be considered? No hurry, the next, we will introduce to you the types of sugar daddies. Based on different standards, sugar daddies can be divided
Divided by Income
honey daddy: As the cream of the crop, honey daddy without income limitation can easily support multiple sugar babies.
Middle-income sugar daddy has a budgeted amount of sugar funds to his sugar partner weekly or monthly.
Splader daddy, who is on the lowest end, promises his partner with plenty of cash and gifts. However, this commitment is often constrained by his limited income.
Divided by Age
Young sugar daddy: Those guys are single men under 40 years old, whose careers are in a rising stage. They are too busy to find a steady relationship. Most of them are not as rich as the old sugar daddies, but they are energetic and handsome. They prefer to build long-term relationships with their sugar babies.
Old sugar daddy: Usually those guys are divorced men over 40 and have kids but live alone, some of whom are super rich businessmen or retired executives. They are very generous because they have no passion to find new marriages but always need company.
Divided by Different Types of Arrangements:
Online sugar daddy: Most of these guys are newbie sugar daddies or married sugar daddies. On the one hand, they are not familiar with the rules of sugar arrangement, on the other hand, they do not want to lose their wives, so they just want to look for some fun through the webcam. Usually, they don't ask for offline dating because they don't want to touch sugar babies physically.
Traditional sugar daddy: They are old, rich, generous, classy and well-educated, which are the most common sugar daddies. These guys want more regular sugar relationships, in which they meet with babies once or twice a week. Both of the two parties will build a genuine relationship of going to dinner, shows, and vacations. They will be happy to give sugar babies a monthly allowance.
Travel sugar daddy: Those guys are super busy and travel a lot, usually for work or business. They feel bored or lonely along the way, so they expect young and beautiful sugar babies to accompany them to make travel time funny.
"Sugar Daddy John": This guy who is always going to want more sex, regards sugar babies as prostitutes and uses sugar dating sites as escort services.
Sensitive Soul: This guy is not a sensualist, and he looks for a sugar relationship in order to escape reality or release his stress. They may have some troubles recently, such as divorce, being widowed, setbacks in their business, etc. Listen to him and take his mind off it, which he's craving.
Divided by Relationship Status
Single sugar daddy: These men who have not got married or been divorced once or twice, are well established in their careers- potentially retired. They aren't looking for anything too serious with younger babies.
Married sugar daddy: They have been married for a few years, but their wives don't mind that they have sugar babies. Maybe they have open relationships.
Divided by Experience (not about their age)
Experienced sugar daddy: As guys who are experienced with sugar dating, they familiarize themselves with all the rules of sugar arrangement and know exactly what they want. If possible, they usually have more than one sugar baby.
Newbie sugar daddy: They are rich men who join the sugar bowl not long ago, some of whom never have sugar babies before and are learning everything about sugar dating. If they set the first allowance that is far lower than your expectation, don't be too quick to say no because they just need some guidance.
Divided By Fame or social status:
Celebrity daddy: These guys are the top sugar daddies with not only a large amount of wealth but also a high reputation, and dating with them can make you appear in tabloids every day if you don't mind.
Unfamous sugar daddy: This type of sugar daddy is usually only rich, but they are not famous.
Divided by Ethnicity
Black sugar daddy: A black millionaire is usually from the sports and entertainment industries. They are African Americans, African Canadians, African Australians, etc.
White sugar daddy
Asian sugar daddy: Those men, who are usually super-rich and generous, come from countries where always have an obvious gap between the rich and the poor such as Japan, Singapore, South Korea, India, and China. They are open-minded and familiar with the local culture. It's not easy for them to attract the beautiful white girls they want, so they turn to sugar dating.
3. Types of Sugar Arrangements
Also, you need to know the types of sugar arrangements. Based on different dating need, sugar arrangements can be divided into the following 10 types.
Mutually Beneficial: An attractive woman with financial problems wants to find a rich man to support her in a lifestyle, and a lonely rich man yearns for the company of a beautiful young girl. Therefore, they establish a relationship, in which she gives him company and he gives her allowance.
Example

Abby (Adelaide) is a young college student who is incapable of repaying her college loan, so she found a rich man to take care of her. She meets her sugar daddy typically twice a month, sometimes four times, and the man gives her $3,500 a month as allowance. She used the money to pay back her loan and afford her lifestyle.
---
No-Strings-Attached: No feelings and emotions in the relationship. Most of sugar daddies who are seeking this type of arrangement are "John" (a man who uses sugar dating sites as escort services). It's more like a casual relationship without falling in love with each other.

Example

Carl (Washington) is rich man, middle-age and divorced. He has no passion to find a serious relationship but always wants sex, so he finds a sugar baby. Usually they will skip the drinks and meet straight at hotel, and he pays the sugar baby a certain amount of cash as a reward after having sex.
---
Non-exclusive: The sugar arrangements, unlike exclusive relationships, are by default non-exclusive. It is not a serious relationship - either party can date around.
Example

Mia (Brisbane) has got a new sugar arrangement recently. The relationship is not strict predetermined as an exclusive relationship, so she accepted another invitation from a sugar daddy after several weeks. Now, she has two sugar daddies.
---
Mentorship: A sugar baby wants to get business advice, mentorship, and investments from her sugar daddy. The money is not the first consideration in this type of arrangement.

Example

Lara (San Francisco) is a young sugar baby who has a great education, pretty face, no financial problems, and even has her own small business. The reason why she joins sugar dating is that she wants to get guidance from successful people. Jack, a businessman who is started from Scratch became her sugar daddy later. With the guidance of Jack, Lara's business has made great progress.
---
Travel companion: The sugar daddy is looking for a travel companion who can liven up business trips, make full use of the luxury accommodation while he's busy with meetings, and explore with him during the break time.

Example
Selena (Las Vegas) has an arrangement with a man from New York. He works in the hotel business and travels to Europe frequently. Selena would fly with him for 5-7 days once a month and they would go to shows, go shopping and explore the famous European cities.
---
Platonic: For some reasons, the sugar daddy/sugar baby doesn't want sex, so they build a platonic relationship. The sugar baby needs to spend time accompanying with her sugar daddy, then she can get allowances and gifts. For sugar daddy, sugar dating will be a way for him to escape issues at home or work.
---
Online only: This is a new form of sugar arrangement that has emerged with the development of the Internet. Usually sugar daddy and sugar baby get in touch through the online dating websites. There are no face-to-face meetups. The sugar daddy interacts with sugar baby through webcam, and there is no physical touch in this type of arrangement.

Example

Jerry (Florida) is a newbie sugar daddy and never has a real sugar baby. He just wants to have some fun though the Internet, so he finds an online sugar baby. He likes to let the girl put on black tights and dance in front of the camera. According to the terms of the arrangement, he has to pay $250 to the girl after each performance.
---
Short-Term arrangement: This is a common form of arrangement. Usually, the amount of time will be shorter than 6 months. About 60% of arrangement are Short-Term arrangement.
---
Long-term arrangement:The relationship between sugar daddy and sugar baby generally lasts longer than six months. When a sugar daddy and sugar baby have great chemistry, they tend to establish this type of arrangement.

Example

Stevens (NYC) is a single rich man, handsome and young. He is looking for a serious romantic relationship, not necessarily a sugar one. When he meets Olivia through a sugar daddy app, he falls in love with her immediately, and meanwhile his charm has also attracted Olivia too. The relationship has maintained for two years.
---
Upfront: The expectations and boundaries will be strictly predetermined and agreed upon during the initial stages of the arrangement, including the exact price, the lasting time, frequency in dating, sexual or asexual, monthly allowance or pay per meet, etc.
---
4. Major Terms in Sugar Daddy Arrangement
So, when you negotiate the details of your arrangement with a POT sugar daddy, consider the following terms:
• What's the exact price of the arrangement?
• How to pay the allowance? Cash or transfer?
• How often does a sugar daddy pay the allowance? (PPM/monthly/weekly)
• When to receive payment?
• Will there be any extra gifts?
• Offline dating or online only?
• When and where do you usually meet?
• Is it necessary to appear in public together?
• Do you need to travel together?
• Do you need to go abroad?
• Do sexual relationships occur?
• Do you need a condom when you have sex?
• How long will the relationship last?
• How often do you date?
• Can he be your mentor?
• Is the arrangement non-exclusive?
To Conclusion
When you discuss the terms of sugar arrangement with a sugar daddy, consider all the factors, what type of sugar daddies you meet, what type of sugar arrangement you want, set your expectations and boundaries in advance. If you don't know how to do it, you can also follow the sugar daddy arrangement examples we mentioned.
---
Related Readings