How to find a sugar daddy on Instagram? (Pros, cons and steps)
Latest update: Jan 30, 2020 32132 by Tony Samuel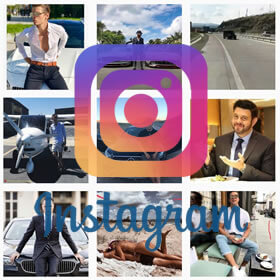 Have you ever considered using Instagram to look for mutual benefit relationships? Maybe your problem is that you don't know how to do. Don't worry...

This is a complete guide that will help you to find a sugar daddy on Instagram step by step.

As one of the world's largest online photo and video sharing social networking app, Instagram had 1 billion monthly active users until June 2018.
1. Login in your Instagram account.
Similar to Facebook or Twitter, everyone who creates an Instagram account has a profile and a news feed. If you don't have an account, take a few minutes to sign up, then open your account and go to your profile page.
2. Improve your profile.
Choose your best photo as your avatar, which will give others a better first impression and attract more attention. If you can, remember to use the "sugarbaby" as a prefix for your username, such as "sugarbaby_sara", through which POT sugar daddies can find you when they do a "username" search. Certainly, this is not enough, you should also add some hints in your profile description to show your expectations. For example, "I am an attractive woman looking for a rich man to support me in a lifestyle."
3. Post high-quality photos or videos.
The photos or videos you post on Instagram will be displayed on your profile, and others following you will see your posts simultaneously. Don't post old photos taken many years ago, however pretty they are. You should post your latest photos, and make sure they are real and sexy, but not pornographic. Remember those close-ups shots get very little interest from POT sugar daddies.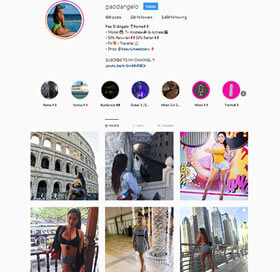 4. Add the right hashtags.
Instagram uses hashtags as its main search platform, meanwhile most users use hashtags to find contents that attract them. Thus, it is important to add the right hashtags to your post content to greatly increase your profile's visibility. The following is a list of top hashtags for seeking sugar daddy on Instagram:
#SeekingArrangement #SugarDaddy #Millionaredating #SeekingRichMen #MillionaireMatchmaker #SugarRelationships #SpoilMe #SugarDaddyWanted #SugarBabyWanted #SugarDaddyNeed #CashCows #SugarDaddy #WealthyFish #BusinessOwner #RichMen #GenerousGentleman #Sugar #Sugaring #SugarBaby #SB #SD #PayPerVisit #Luxury #SugarDaddySites #SugarDaddyApps #SugarBabyApps #HookUp #GetPaidtoDate #SugarMomma #RichWomen #MillionaireLady #RichSingle #SugarDaddyAllowance #Spoiler #CashDating #CollegeSugarBaby #MutualBenefit #Seeking #POT #SugarDaddyMeet #FriendWithBenefits #OnlineArrangement #SugarBowl #SugarLifestyle #DatingforCash #DatingforMoney #PayMyBill #SugarDaddyFinder #SugarDaddySeeker #SugarDaddyOnline #FinancialSupport #NeedaSugarDaddy #WantaSugarDaddy #CollageTuition #StudentLoans
In addition, if you want to find a local sugar daddy, don't forget to add a location hashtag. #NewYork #LosAngeles #Miami #Chicago #LasVegas #Melbourne #Toronto #Sydney
5. Find out rich men.
In most instances, if you search for hashtags like "#sugardaddy" and "#seekingarrangement", you will get a lot of scammers and advertisers because most of rich men on Instagram will not tell others they are looking for a sugar baby, so the key to finding the real rich people is to focus on topics that are relevant to their lives, such as #luxury, #SportsCars, #Investments, #stocks, #Charity, #Golf #Vacation., etc. Every Instagram account has a "Followers" and "Following" count, representing how many people they follow and how many other users follow them. Find out the popular accounts with the largest number of followers in these hashtags, then open their "Followers" count, there are a lot of rich men. (*The detailed procedures, please reference the left side pictures)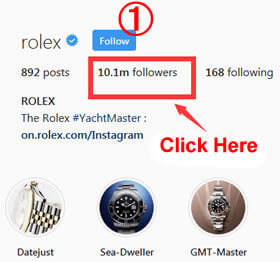 6. Follow the rich men.
Not everyone you find is rich, so it is necessary for you to conduct background investigations and filter out those ordinary people. By checking their profiles, you can get a lot of important information about them, such as their jobs or industries (To know their income levels), marital status (single or married), location (How far away from you) and so on. When you identify that man as your "target" sugar daddy, follow him.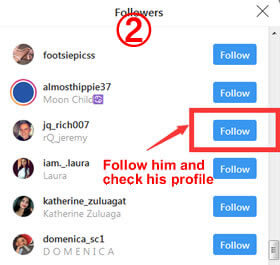 7. Send them a message.
Now you have followed a lot of rich people, and it's time to start interacting with them. Don't "wink" or "intrigue" them, just send them a direct message such as "Hi, there! I am sara, a 21-year-old college sugar baby from Los Angeles. Now, I am looking for a sincere and generous sugar daddy who can provide me with financial support. You can browse my photos and videos in my profile, DM me please if you like them!" Considering that only few of them are interested in sugar relationships, you'd better send as many messages as possible to the rich.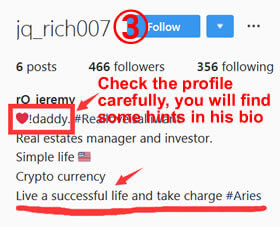 8. Get the first date.
When you feel comfortable, you can arrange your first and subsequent meetups through Instagram. You date him, have a discussion so that both of you can see if you suit each other. In the process of dating, enjoy your time and let the sugar relationships blossom into a long-term romance.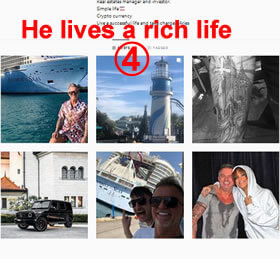 It takes much time to find a sugar relationship on Instagram. You shouldn't under-estimate the time investment. Be patient and pray, if someone doesn't reply to your message, don't need to take it personally, just turn to the next one.
The Pros and Cons of finding a sugar daddy on Instagram
Pros

• Completely free. Compared to the paid sugar daddy websites, Instagram allows you to use all features for free, which is a very cost-effective way to find a sugar daddy.
• A large number of users. The app is one of the most popular social networks worldwide, and the total number of daily active users reaches 500 million.
• Simple and easy to use. Most girls may have been using Instagram for a while, so they are familiar with it.
Cons

• Takes more time and effort. Since Instagram is not a specific sugar daddy site, 80% of rich guys you meet may not be interested in sugar relationships, so getting a sugar daddy on this platform is more difficult.
• Lots of scammers and salt daddies.Instagram is a completely free app and doesn't include an income verification process, so the scammers and salt daddy usually gather around there.
• Few real sugar daddies. Most legit sugar daddies don't use Instagram to find their sugar babies because they have another better choice - sugar daddy dating sites / sugar daddy apps.
• No advanced search function. Instagram only allows users to search by one keyword at a time. You can't filter users by their ethnicities, incomes, ages, and locations, etc.
• Lots of competitions. There are a lot of women using it to find their sugar daddies too, so you will face a fierce competitive environment.
To Conclusion
Now you've known the pros and cons of utilizing Instagram to find sugar daddies. Although it's not easy as you image, it's very rewarding when you are successful. By following the simple 8-step guide, being aggressive enough and keeping adequate patience, you will succeed.
Related Readings