10 Sugar Dating Facts Newbie Sugar Baby Need-to-Know
Latest update: Jan 4, 2020 15983 by Tony Samuel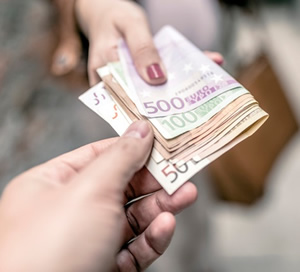 Althought the "sugaring" was described in 2015 as an expanding trend, this type of relationship is completely new to many people. That is to say, there still are lots of newbies who are not ready to join the bowl. Why would a generous gentleman want to pay for a sugar baby and how can a young beautiful lady trust an older man for benefits? and so on.
Now, we compile 10 most important things of sugar daddy dating that you probably don't know
The more knowledge you have in advance, the better prepared you'll be.
1. You are in a fiercely competitive environment.
In fact, the sheer ratio of sugar babies to sugar daddies is 4 to 1 but can go as high as 6 to 1 in the sugar bowl. This makes the situation advantageous for generous gentlemen seeking a sugar baby, but can make it more difficult for an attractive young lady to get her match. If you are a average sugar baby, there's no way you can get an ideal arrangement without being positive.
That's why we usually recommend sugar babies to SugarDaddyMeet.com; this site has the lowest competition (SD/SB%:45/55) meaning you can easily find enough POT sugar daddies. To avoid fierce competition, it's a wiser choice.
2. Seeking a sugar relationship takes time, especially when you're a newbie.
Many new sugar babies and sugar daddies often lose their patience in the first month, because they are greatly under-estimate the time investment in finding their matches. Actually, a month is a drop in the bucket. Unlike a traditional one, seeking this type of relationship needs more efforts and attempts, you have to solve trust problems at first. So give yourself enough time and exercise a lot of patience, if you really want an ideal sugar arrangement.
3. Sugar Dating is not a one-time thing, you tend to build a relationship.
For some daddies, the "sugaring" is a way for them to escape the boring life, while for some sugar babies, this lifestyle is a new chapter of their young life. So, the financial support or young girl's body is not the only reason for them to jump in the sugar bowl. Develop your relationship base on mutual respect and shared responsibility.
4. It not wise to be a full-time sugar baby.
With some exceptions, many inexperienced sugar babies fail to be successful. Let's face it, the sugar daddy allowance certainly shouldn't be the only way to think you can get out of your money troubles. You know how I told you that seeking arrangements usually takes time, you'd better have a job and don't quit your job before you find a steady arrangement.
5. Sugaring is not prostitution, and sugar baby is not a golddigger.
Contrary to what many people think, most of sugar daddies and sugar babies are not joining the sugar bowl just for the sake of the money and sex. The arrangement between the two parties is a mutually beneficial relationship, and they think they just choose a different lifestyle. So "sugaring" is quite different from prostitution and escort. You don't have to feel ashamed.
6. Not all sugar daddies are old and ugly.
In fact, there are plenty of young handsome sugar daddies in the bowl which makes it easy for sugar babies to find their perfect match. You can develop a lasting relationship with them by starting from sugar daddy dating. It just needs a little more patience. Be clear, but not too business-like, about your expectations from the get-go.
7. Protect your security and privacy is the rule No.1 in the sugar bowl.
Please remember there is no one who is going to make a genuine offer to someone they've never met. Scammers and bad people usually make these high offers to make you think, "but what if it is real? It's got to be worth dating him or send some nudes to find out."


8. You cannot avoid meeting time-wasters, losers, and fakers
Seeking arrangements can take a lot of time. You're probably getting a heap of messages now because you're new, but most of them are fake. So don't take your first couple of weeks as an indicator of how things will always be, just try to ignore them.
9. Successful sugar babies always ask for a reasonable allowance.
The perfect sugar daddies (young, rich and generous) attract lots of competitors, so you should try to avoid fierce competition and makes the situation advantageous for yourself. The key to success is to establish a long-term arrangement. To achieve this goal, you should not be greedy.

10. It is normal to be rejected by a Sugar Daddy.
If someone rejects you, it just means he/she is looking for something a little different. Keep in mind that different people look for different things, and they has their own dating preference. It's not your fault and you don't need to take rejection personally, just move onto the next.
---
Related Readings