What If A Potential Sugar Daddy Ask You To Send Nudes?
Latest update: Aug 1, 2020 10365 by Tony Samuel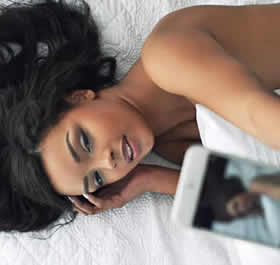 I understand, as a newbie, you don't want to miss any chances of getting a generous sugar daddy, but in the first couple of weeks, Splenda daddies and scammers often make a high offer to you and ask you for some nude photos. how do we deal with this problem? Simply refuse?

But what if it is real? Is it advisable to send him some nude photos to find out? This piece will highlight ways of overcoming this problem.

Missing out on a sugar daddy arrangement one month after registering on the sugar daddy dating site or app can greatly hurt your confidence. You may even end up thinking that the photos you uploaded on the site are not attractive enough to land you a sugar arrangement. With such desperation, coupled with a lack of patience, you would want to try some new ways to attract some potential sugar daddies. It happened that just at this time a potential sugar daddy sends you a message to ask you for some of your nude photos and propose a hight offer to you. It looks like you're going to succeed if you agree with his request. Actually, you are making a big mistake.
1. It Is Unwise to Send Potential Sugar Daddies Nude Photos
①The roots of the problem. To begin, if by any chance you find your profile unattractive, you should first try to make it attractive by going through guidelines on how to improve your profile. These naked Photos, in contrast, get very little interest from genuine sugar daddies.
②The patience issue. As a newbie, its crucial to understand that landing a perfect sugar arrangement takes time (from 2-3 months) and you should not underestimate the time investment for seeking arrangements. Therefore, don't be desperate and take unwise steps-be patient you'll land one soon.
③Scammers take advantage of your weakness. You become an easy target for scammers and salt sugar daddies if you are irritable and impatient. In essence, spending time to find an ideal sugar arrangement is not such an enormous problem, and you can easily solve it. You don't need to send someone naked photos to get someone's attention. No one is going to make a genuine high offer to a sugar baby they've never met.
2. Say "No" to The Sugar Daddies Who Want Your Nudes
Just think, if someone easily gets holds of your nudes for free, they will not take you seriously, because it is an unequal transaction that will only benefit the salt daddies and scammers, they would think you are an easy girl, in reality, they never want to spend a penny on you or start an arrangement with you. So, never send anyone your nudes before you get over trust issues. On the contrary, it's even rude and disrespectful for anyone to ask you to send them your nude photos. Don't push your luck with these rude people. It's your body, and you have the right to say no.
Related Reading: distinguish the scammers and salt daddies.
To Conclusion
Let's face it, before they intimacy with you, genuine sugar daddies would never ask for your nudes. They are looking for companionship and know clearly that the best sugar relationship is based on love and respect. They want to spoil you, not anxious to see you naked. As a newbie, don't lose your dignity just for getting an arrangement. Always act like a "hard to get" kind of lady as it will make the sugar daddy take you seriously. It's not worth sending a potential sugar daddy your nude photos.
Related Readings