Top 10 Sugar Daddy Dating Sites: Which Is the Best?
Latest update: Jan 29, 2020 23452 by Tony Samuel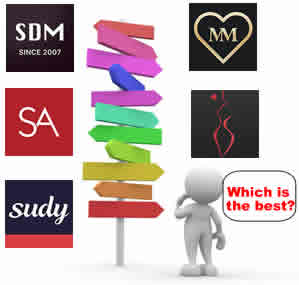 Our website gives you the opportunity to pick a suitable sugar dating site from our well-detailed list, with more than 10 sugar dating sites to choose from. Despite this, it can be very overwhelming to pick the perfect site. When selecting a regular dating site, one usually only considers few factors such as popularity, the active members, adn features, but...

When it comes to sugar daddy dating sites there are more factors you need to consider, such as ① whether you can afford it, ② privacy, ③ competition, ④ unique features, ⑤ the type of relationship you seeking, ⑥ your strengths and weaknesses, ⑦ after-sales service, etc.
1. The cost considerations
Usually, it's takes months for the newbies to find an ideal sugar daddy, many of them are not rich or experiencing some financial problems. Whether you can afford the membership fee of the sugar daddy websites is an important consideration. Beside that, when you decide to spend money on a sugar dating site it should be worth it. So it is highly desirable that the site offers you a free trial. Fortunately, most sugar daddy dating sites on our review list allow you use basic features for free. However, you will have to upgrade to a gold membership on some sites to enjoy full access to all their features.
Some sites such as EstablishedMen.com are free for sugar babies, and if you are a college sugar baby, you can get a premium membership by registering with your school email on SeekingArrangement.com. Other sites like SugarDdaddyforMe.com also offer 3-day free trial for the new members.
As the saying goes, you always get what you pay for. The lower the price, the higher the chance of encountering scammers and even salt daddies. You can save yourself a lot of trouble and time by spending more money on a more genuine site.
2. Chances of Getting A Date
As a sugar baby, you are the who is on the hunt, so you shouldn't be too optimistic, the average ratio of sugar babies to sugar daddies can be pretty huge. This ratio is estimated to be 8:1 but can go as high as 15:1 on some free sugar daddy dating sites, this means sugar daddies have to scroll through thousands of sugar baby profiles to get an ideal match. You would face heavy competition.
However, some sites try their best to prevent sex ratio imbalance, for example, SugarDaddyMeet.com restricts the number of sugar babies registering on the site, and encourage more sugar daddies to register. This method ensures the ratio of sugar babies to daddies on their site is closely balanced.
*Sugar Daddy/Sugar Baby Ratio of the top 5 sugar daddy apps

| | | |
| --- | --- | --- |
| Rank | App | SD / SB Ratio |
| 1 | SugarDaddyMeet App | 45%:55% |
| 2 | MillionaireMatch App | 42%:48% |
| 3 | RichMeetBeautiful App | 35%: 75% |
| 4 | Sudy App | 34%:66% |
| 5 | Seeking App | 22%:78% |
Finding a sugar relationship is not as easy as you think. The best way is to find a perfect strategy to win yourself more potential sugar daddies. You should try to avoid fierce competition and makes the situation advantageous for youself.
3. What Type of Sugar Arrangement You Are Looking for
Most sugar daddy dating sites allow members to seek mutually beneficial relationships, but, some like MillionaireMatch.com, the world's largest rich men dating site, only allows users who are searching for a serious relationship. Sugar Daddy Meet limits its membership to straight male sugar daddies and female sugar babies.
For male sugar babies, OlderWomenDating.com is the best choice; it's a sugar momma dating site designed for male sugar babies. For gay sugar babies and daddies, we suggest SeekingArrangement.com, because Seeking any kind of arrangement is not allowed in any form on it.
If you are a rich sugar daddy, the best choices are SugarDaddyMeet.com and WhatsYourPrice.com, because you can bid to win a date with an attractive sugar baby, more directly and efficiently. If you are not attractive anymore, don't be so picky, you can try AgeMatch.com there are plenty of older sugar daddies.
4. The Number and Authenticity of Members
A perfect and reliable sugar daddy dating website should have huge traffic and a large number of users, making it easier to get dating opportunity and find the ideal match. Even though some sites claim to have tens of millions of members, it's not easy to find a real sugar daddy on it, because usually more than half of their users are bots and zombie users.
To find the actual number of members of our top 10 sugar dating sites, we performed a 'test search on them. Finally, Our test search identified that SugarDaddyMeet.com is the no.1 sugar daddy dating site and the easiest to get an ideal match, the 2nd best was MillionaireMatch.com, the 3rd/4th best was WhatsYourPrice.com and Seeking.com. All of these 4 sites have a strict membership authentication system, which significantly minimizes the number of low-quality users. If you're tired of scammers and salt daddies, then these four sites are definitely for you.
The 5 most popular Sugar Daddy Apps monthly visits
| | | |
| --- | --- | --- |
| Rank | Sugar Daddy Apps | Monthly Visitors |
| 1 | Seeking App | 11 million |
| 2 | MillionaireMatch App | 6.8 million |
| 3 | SugarDaddyMeet App | 5.6 million |
| 4 | Sudy App | 5.2 million |
| 5 | RichMeetBeautiful App | 3.7 million |
5. Security and Privacy
Privacy and security are the primary concerns for both sugar daddies and babies. Many sugar daddy dating site users value secrecy and privacy a lot; this is why algorithms used by traditional dating sites based on social relationships are not appropriate for sugar relationships. All sugar daddy dating sites pay considerable attention to protect user's privacy and numerous privacy settings to protect confidential user information. For security and privacy reasons, you can never be wrong, if you pick a sugar daddy dating site from our well-detailed list. They're all good.
6. Reliable Customer Service
A sugar relationship is a special relationship. Both sugar babies enjoy their privacy, and most of the times they can't run to friends and family in case they encounter a problem regarding their sugar relationship. A good sugar daddy dating site should help you solve all sugar relationship problems efficiently. According to our study, SugarDaddyMeet.com and SeekingArrangement.com are the best regarding customer service. Both of these sites offer customer service 24/7 through their call centers. You can also get help from experienced sugar baby/sugar daddy on their official forums.
Conclusion
Although we have a sophisticated and unique algorithm to rank sugar daddy dating sites, it is essential to involve your ideal preferences and your judgment to pick a suitable sugar daddy dating site. We also advise you to try out more than three sites, to make a well-informed decision.
Related Readings