Is It Possible to Be An Plus Size Sugar Babies?
Latest update: Aug 2, 2020 23312 by Tony Samuel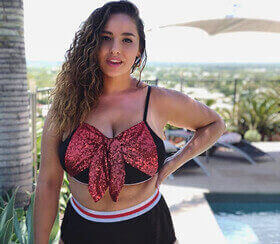 Finding a sugar daddy is incredibly challenging for many curvy women because most sugar daddies like skinny girls. However, it does not mean those fat girls have no chances to succeed in the sugar bowl.

Today, sara, a successful plus size sugar baby, will share her real experience with us here. Through reading this article, you will learn how she made it.
*The following content was written based on the interview with Sara
1. What major challenges do plus Size sugar babies face?
Misconceptions. Many people view sugar baby as "prostitutes," and sugar baby can be portrayed as lazy as well. In fact, sugar relationships are quite different from prostitution and escort. It's not a one time thing and you are building a "relationship.
Rejections. Many girls will feel very frustrated when they are rejected by sugar daddies. They even think that there will be no sugar daddies wanting a fat girl. Actually, it just means the sugar daddy you meet is looking for something a little different, so there is no need to take rejection personally.
Few choices. Since the number of sugar daddies who are interested in BBW dating is relatively small, you can't find potential enough sugar daddies like other girls. So plus size sugar babies always need more luck to get an ideal sugar arrangement.
More time and energy cost. Unfortunately, the pool is going to be very small for BBW/plus size women, so it's hard for them to get a date. There are as many as four sugar babies for each sugar daddy, which makes the situation advantageous for generous gentlemen looking for a skinny sugar baby, but difficult for a plus size sugar baby to find her match.
2. Are there some sugar daddies who want a plus size sugar baby?
Yes!There are plenty of sugar daddies who show much preference for big girls. Most of these men like women with big breasts and ass, however these characteristics will not be appeared on most skinny sugar babies, so they turn to plus size sugar babies. In addition, some sugar daddies maybe not interested in curvy women at first, just because they have been in the sugar bowl for a long time and tired of girls with a slim, well-proportioned figure. Therefore, they started looking for different types of sugar babies, such as women with fuller figures. The preferences of the rich have been changing because they always need more freshness.
3. Do plus size girls have to be skinny to be a sugar baby?
No!Many sugar babies think that obesity is the main reason why they fail to find sugar daddies. It seems that they have to be skinny to be a sugar baby, but the fact is not like that! Keep in mind that different people look for different things, and every sugar daddy has his own personal preference for sugar babies. So it is significant to be yourself instead of doing things you do not want to do. Of course, if you want to cater to most sugar daddies' preferences, you can try to lose some weight. There's no upside to being overweight, but there are numerous downsides.
4. Where do plus size sugar babies find their sugar daddies?
Sugar Daddy Websites. If you want to find a sugar daddy fast, the sugar daddy dating sites are undoubtedly the first choice. The key to success on those platforms is (1) creating an impressive sugar baby dating profile. (2) Make sure your photos, height, weight and body type are accurate and true so that the POT sugar daddies can find you based on their preferences. (3) If you are not sure who will be interested in BBW/plus size women on these sites, you'd better to let POT sugar daddies discover you instead of sending them a direct message. » 5 Best Sugar Daddy App for Plus Size Sugar Babies
BBW Dating Sites. This is sara's second choice for finding a sugar daddy. In general, the men you meet on those platforms will not be disgusted with your body, which can help you establish good communication with them. But many of them are interested in a serious relationship only, so sara would suggest that you actively send a message to these potential matches to filter out who is looking for sugar relationships. Before finding an ideal partner, some of POTs may be willing to spend some money in exchanging for your company.

Social platforms. Using social networking sites/app like Instagram, Twitter, and Facebook to find a sugar daddy is sara's third choice. The advantage of using these sites is that you don't need to spend a penny. However, you had better hope for good luck because finding a sugar daddy on social network sites is same as looking for a needle in the ocean. (You may like » how to find a sugar daddy on Instagram)
5. Is there any tips for succeeding as a plus size sugar baby?
Dress appropriately. In order to look your best, it's important to know your body type. Wear clothes that compliment your figure and highlight your best assets. Being thick is definitely existed, but it depends on how you present it!
Keep patient. Finding a sugar relationship usually takes time, and a month is a drop in the bucket. For plus size sugar babies, the situation is even worse, so you had better have a psychological preparation. Remember that patience is the key to being successful in finding sugar arrangements.
Be honest. There's no sense in trying to hide anything. Sugar daddies value honesty a lot. You should never lose your faith because there are plenty of sugar daddies who are interested in plus size women. Be honest and confident. Although you can get a date by cheating, you will be exposed at the end.
Get over rejection. The sugar bowl is competitive, even those sugar babies who have slim, well-proportioned figures will suffer a lot of rejections. So if you get rejected by one sugar daddy, it just means they are looking for something a little different. Skip over those guys rather than taking the rejection as an indicator of how things will always be.
Maintain a healthy body. You should know, if a guy is paying a lot of money, the odds are he wants a relatively fit girl. It doesn't matter whether you are plus size or not, you should still take care of your body. As it is often said: beauty (or attraction) is in the eye of the beholder! Health is another form of beauty.
Improve your style. In addition to plus size body type, there are many characteristics that can appeal to POT sugar daddies, such as being much younger, high-level education, pretty face, full bosom, big ass. Highlight your advantages.
To Conclusion
As a plus size sugar baby, figure out the following two facts:

• Do most sugar daddies want skinny women? - Yes
• Are all sugar babies skinny women? - No
Maybe you will face lots of challenges in the sugar bowl, but there are still plenty of sugar daddies looking for BBW/plus size women. These above tips will keep you on the right track and save you from unnecessary twists and turns.
Related Readings