Which Do The Rich like better, Sugar Relationship or Serious Relationship?
Latest update: Aug 2, 2020 23623 by Tony Samuel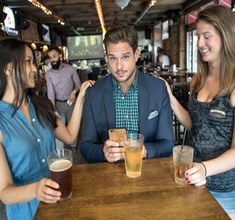 While online dating is notorious for being difficult and even sometimes risky, many people still believe they can be successful at finding a rich husband online. Are wealthy men looking for serious dating online? That's a million-dollar question.

Sugardaddydatingclub.com conducted a blind survey of 1576 wealthy & affluent males. The subject of this study is Are wealthy men looking for a serious relationship online? The result of the study is surprising....
As you can see, our team conducted this survey in April 2018. The study shows that a staggering 93.4% of rich men said they WEREN'T serious about finding a relationship online. Instead, they were openly seeking out sugar relationships.
When asked why some rich men indicated that the process of finding true love on the web is too long for busy lifestyles. Meanwhile, they tend to be wary in regards to security and privacy because plenty of scammers online just want to take advantage of them. Others thought online dating was not necessary because it was easier to tap into their social circles when trying to strike up a serious relationship.
Nowadays, more and more wealthy men are looking for a sugar baby or a one night stand when they turn to the internet. Some older men are known as "sugar daddies", especially those wealthy ones. Many respondents said that they enjoyed meeting new and beautiful women. They enjoy the array of women making themselves available online, and the feeling of control they get while browsing. James, a single millionaire from Los Angeles, said:"It depends on what kind of relationship I am looking for if I am looking for true love online, I have to consider many problems, but I wouldn't have to do this! Quite the opposite, finding a sugar baby on the web is a better choice for me, money can solve most problems in sugar daddy relationship."
"The result of the study is understandable. We went the extra mile and analyzed more data collected from many years' research and experience, and we found that most wealthy men rarely look for a serious relationship on the web. However, many women have spent a lot of time and money on online dating in order to marry a rich man. It's not worth it, most of them have no chance whatever of succeeding." Said Sam, a staff of sugar daddy dating club.
According to the study, most wealthy men pay much attention to efficiency, privacy, and feeling of freshness on online dating. You had to accept the harsh reality, wealthy men prefer to seek "sugar" relationships rather than find serious long-term relationships online. Certainly, it is not absolute since different people are looking for different things. Do you think that wealthy people will seek true love online? Feel free to leave your comments on sugardaddydatingclub.com
So... Which one is your expectation, marry rich or find a sugar daddy?
Related Readings