10 Alternative Dating Apps for Seeking Sugar Arrangements
Latest update: Apr 11, 2020 12036 by Tony Samuel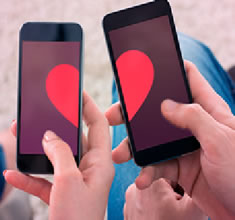 The increasingly rapid pace of life today makes it harder than ever for us to date sugar daddies outside the the existing circle of life. So if you can sift out inappropriate dates before you go out, then twice as much can be accomplished with half the effort. That's why I encourage every sugar baby to use dating app. Of course, people are suitable for different apps based on their specific requirement. The following is a list of the most popular dating apps on the market. Not all of them are sugar daddy dating apps, but they still can help you find a sugar daddy.
1.Facebook app
Although facebook is not a sugar daddy app, it has a super large number of users. The way of making friends here on facebook is based on common classmates, colleagues and friends. I put it in the first place because you may find the person you had a crush on before. The only drawback of facebook is that there are too many people, from all walks of life and from every corner of the globe. There are so many users from the third world countries that you may receive greetings from a faraway place with the words you can't understand from time to time.
Visit Website - Download on Iphone - Download on Andriod
2.Tinder
Tinder is a magic dating app for random sex, attracting countless men and women. It's all about pictures. So you'd better evaluate your physical appearance and skills of chatting befor you join in, or you'd have little chance of matches. But there are lucky dogs finding their sugar daddy too. You may try.
Visit Website - Download on Iphone - Download on Andriod
3.OK Cupid
A very popular dating app in the United States. There are many members too. Girls only need to complete their profiles and waiting for guys to message them. The free edition is enough for you to find good dates. But if you spend 20 dollars, you can buy half a year of A-list, which means you can browse others anonymously and place your profile in the front. My best friend met her sugar daddy on this app. And a good feature about this dating platform is that users should submit questionnaires first and the app will match you based on your answers.
Visit Website - Download on Iphone - Download on Andriod
The most famous sugar daddy dating app in the world. Since 2001, this app brings together a variety of people. If you are a woman who want to marry rich or you are a young girl who want to seeking a sugar daddies, this app is one of the best choices, But the use is billed. The site's members include doctors,CEOs, athletes, fitness models, investors, entrepreneurs, Beauty Queens, lawyers and Hollywood Celebrities, maybe you can stumble on your boss here. When I was in college, I had classmates looking for sugar daddies on the app.
5.Hinge
Hinge is popular dating apps, not a professional sugar baby app. You need to log in through facebook(no need to worry about leak of any of your personal information). This app will block out careless users thus you only have a limited number of matches. Interestingly, the matches recommened by the app are all good-looking. A lot of smokingly-hot guys are here. But they are hard to catch too. I'm an average girl, shy and lazy, so I get little answers. Buy if you make the first move, your chance of dating a handsome guy is high.
Visit Website - Download on Iphone
6.eHarmony
Don't be shocked by the fame. Your own experience of using is more important.
I know a friend matched on e harmony and now has been married with kids. Later I did some research and found that e harmony is really well-know. I looked up and saw the building where they advertise when I was playing near Westwood. The app has upscaled user-interface. I found that Asian American are grouped into specific countries when I began using it. It cost me two hours to fill out all the blanks in the profile.
Later I found that most of the members are low quality and it is the most expensive dating site I've used so far. Half a year's membership cost me over 200 dollars. You may ask why I don't use the free edition. If I don't pay, I was not allowed to watch pictures, send and read meeeages. I cound do nearly nothing. I deleted it after several days for the poor using experience.
Visit Website - Download on Iphone - Download on Andriod
7.Where White People Meet
Racial issues have always been a "persistent disease" in American society. Founder of this app said that people of any race over 18 years old can use it. If you are black who wants to date the white, this app is a good choice. Of course, you should read carefully first about others' preferance. Membership fee per month is only 15 dollars.
8.Match.com
Match.com sees more than 13.5 million visits a month and has more than 1.7 million paid members, but the best part is the most popular dating site ever welcomes straight and gay singles alike. I strongly recommend it to gays.
Visit Website - Download on Iphone - Download on Andriod
9.SeniorPeopleMeet
SeniorPeopleMeet is an online dating platform for singles over 50. This website provides you a an easy, secure and interesting atmosphere. You can date online with a click of your mouse. This website allows its members to set up their photo album and share it with other members. By using the VIP service, you can quickly browse and connect with thousands of people near you. You can send emails, chat online and browse pictures of others if you are the VIP member.
10.Large Friends
Launched in 2005, Large Friends belongs to the Cupid Media Network, which has more than 30 popular dating sites. This app is for serious relationship. It provides a unique and safe dating platform for overweight people.
Related Readings